Walking back from Henley
towards Remenham
It's official: I now have more books than space to shelve them, even after valiant attempts to reduce my collection.
John Boyne
recently tweeted that his library numbers 2,511...but his recent Twitter references to a new novel by Maggie O'Farrell (pause a moment for a surge of joy) and an up-and-coming from David Mitchell lead me to believe that precise number may have gone up again by now. Prompted by this tweet, I counted mine and was disappointed to have only 756.
Then there was Henley.
Henley Literary Festival
has a special place in my heart. It was their short story competition that encouraged me to write, and one of their visiting authors,
Mary Chamberlain

,
who inspired me to be brave, close the door on a lifetime of teaching and do a Writing MA at Warwick. She was presenting again today, discussing her novel,
The Hidden
, which is now book 757 in my collection. I may also have bought
The Secret We Kept
by
Lara Prescott
and a few other titles from the wonderful independent
The Bell Bookshop

,
not to mention helping to keep the second-hand market alive and kicking by purchasing a couple of titles from Oxfam and the independent second-hand and antiquarian shop,
Way's
in the quaintly named Friday Street.
The problem of where to house them all will wait for another day. I have been on the internet and found a few candidates to fill the remaining metre of wall left in my lounge...it's just a matter of time...
And time really does seem to have a speed which it never had in my youth. My MA is now officially over, my student library card is already stopped and I'm just hoping hubby's maths is right and I will soon receive notification that I have a Masters Degree. This year has sped by. I have learnt so much, and am now being courageous enough to try and complete a full-length writing project that I began on my course. It is exciting to be at a Literary Festival and hear published authors discussing their craft with such commitment and enthusiasm. I am inspired to keep going.
The summer months have seen me complete quite an eclectic reading list. I began with
A rainy-day Thames, near
Lechlade
Kate Morton's
,
The Clockmaker's Daughter
. This is set on the banks of the Thames in a meander near Lechlade. As we walked the upper reaches over a six-day period in September, this resonated. It was easy for me to imagine the house, Birchwood Manor, with its garden sloping down to the river, and the spot where the old rowing boat was launched.
A gentle book, its characterisation is strong and the plot dense. Set across two key time frames, Elodie is the protagonist of the modern story whilst Birdie carries the story of the 1860s when she is transported from a life of petty crime on the streets of London to become the muse and the lover of artist Edward Radcliffe. This strand of the story was the one that most captivated me; the contemporary archivist sleuthing for the connections to Birdie I found less convincing.
It was the Thames and its draw to the many characters who visit Birchwood that I enjoyed the most. I liked the way the house morphed from a holiday retreat to a school to a museum; it demonstrated the passing of time and the changing attitudes that accompany increasing modernity. I also enjoyed the way Morton used objects, such as the leather satchel and the blue diamond. Some of her minor characters are her best, Pale Joe being my favourite.
Kate Morton weaves numerous biographies through this tale and so to enjoy it, you need to like a complex narrative.
With some trepidation I plucked
To Kill A Mockingbird
from my shelf and re-read Harper Lee's classic novel. It has been years since Mrs Hanna, a wise English teacher from Kingshill School in Cirencester in the 1980s, persuaded me to ditch Mills and Boon and Shirley Conran for some "real literature." I loved it then and didn't want to sully the memory with a re-read that left me less thrilled than my teenage self. I wasn't disappointed, enjoying it even more than previously. It is truly a masterpiece of beautiful writing, elegant prose and superb characterisation—worthy of its standing in modern literary history.
Immediately, I picked up the long-awaited sequel,
Go Set A Watchman
. Published decades after the original, it was released in 2015 and I have only just got round to digging it out from my tbr shelf. Knowing that it had received mixed reviews I was prepared for it to be less than Mockingbird. I wasn't prepared for Jem to be killed off in chapter one. As it happens so early, my conscience is clear in the revelation—it gives no spoilers as to the rest of the story. Such a culling seemed too brutal to me, and predisposed me to judge the book harshly. He is such a pivotal influence on Scout in the original, and I still don't really see what was achieved by writing him out of the family.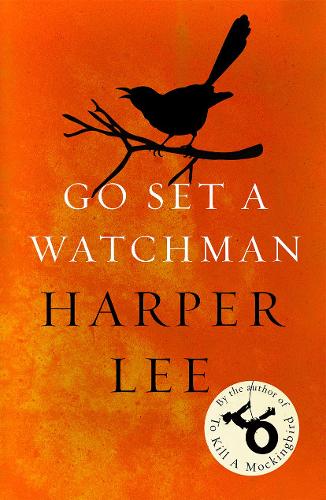 The family is much changed. Scout is now Jean-Louise and aged 26, working in New York, visiting Maycomb for a holiday. Her love interest is a young lawyer who works with Atticus, but Henry Clinton is never the "fine young man" he is introduced to be because he is simply not a patch on her brother. That she deserves better is plain for the reader to see from the outset.
The biggest surprise is Atticus Finch himself—a paragon of kindness and fairness in the first book, he seems to have compromised such humanitarianism for a racial pragmatism that doesn't sit well. I can see that such a shift might be justified by a reflection of the time in which it was set, and I can see that it is time for Scout to form her own world views and carry the plotline, but it was too much of a change, and even Uncle Jack's empathetic explanations don't do enough for me to swallow the shift in characterisation.
Beautifully written, but not the classic of its predecessor. I'm fighting the feeling that the sequel has, in some way reduced the original.
On a lighter note, I read
Adele Parks
, The State We're In. It was a Kindle freebie and isn't an author I have picked up on before. Since finishing it, I read that she has reached number one in the Times bestseller list with her new title, Lies, Lies ,Lies, so many congratulations to her. I enjoyed the book. The boy-meets-girl-on-a-flight was a bit far-fetched, but hey, this is romance and anything can happen. It's not all so flighty (forgive me), and some of the story strands were pertinent to modern life. Anxiety, self-image and self-worth are key themes, as is the pressure to be seen to be successful in both your work and your private life. Well-written and readily consumed.
The other title that I consumed in very few sittings was
This Is Going To Hurt
by
Adam Kay.
Detailing the trials of his time as a young gynaecologist and obstetrician in the NHS it has been applauded as hilariously funny. Whilst some of the incidents and associated puns provide laugh-out-loud moments, I was too sad to fully appreciate the humour. The impossible demands and long hours culture of the NHS is breaking its doctors and nurses, and Kay uses humour to convey this stark fact. This is required reading for anyone who values our healthcare system. I for one, deeply regret that such a fine doctor felt he had no choice but to walk away from medicine. That said, his skill as a writer and communicator is superb, making this book an excellent read. It has already been passed from my daughter, a medical physicist in the NHS to both me and my husband, and it will travel further. There is a compulsion to begin conversations with "Have you read the bit when..." or "Do you remember the incident with..." as we want to compare reactions to some of the more surprising elements of life in obs and gynae!
Steeped in the bookishness that comes from a literary festival visit, I am now knee-deep in additional tbr titles: The Hidden, The Secrets We Kept, The Salt Path, Everything Under, Memory Wall, Winter, The Ageing Brain, The Little Red Chairs and A Spell of Winter...and I still have two more days of festival tickets sitting on the kitchen side.
I make that 765...better order those shelves!