New year, new resolutions. Well, I have shared my ambitions to read more this year, and whilst I hesitate to put a number on it, I would love to reach
40
....The logistics of reading almost a book a week though have not escaped me. I think January has started well; one book finished and another nearly done, but even that is not really enough to reach the "target". The reason I hesitate to put a number on it, is because reading needs to be a pleasure. My whole working life is target obsessed, turning education into a data crunching exercise that can remove some pleasure and meaning from it. I do not want to remove pleasure and meaning from my books. So, I have a goal, but I am likely not to reach it and I'm happy with that! Still, I like to think of myself as an avid reader, so I'm confident that
24
is a good base. Two a month, a sound rate. That seems like I am giving myself time to indulge but also giving my time to other people too.
cover picture Amazon.co.uk
And so we begin. The new reading year has definitely started very well indeed. I was attracted to this book,
Elizabeth is Missing
by the original idea; a novel with a dementia sufferer as the narrative voice. I must confess to being a bit of a fan of different narrative stances, and this one touches my heart. It gives a voice to a silent minority. Dementia is debilitating, but it does not remove humanity, and all humans need to be heard, to be listened to, to know love. And so it is with Maud Horsham, an elderly protagonist who is descending into dementia, but who still has a grasp of who she is;
"Helen sighs again. She's doing a lot of that lately. She won't listen, won't take me seriously, imagines that I want to live in the past. I know what she's thinking, that I've lost my marbles, that Elizabeth is perfectly well at home and I just don't remember having seen her recently, but it's not true. I forget things - I know that- but I'm not mad. Not yet. And I'm sick of being treated as if I am." (Penguin Books)
This stage of dementia is a hard one; many times during the book, I found myself urging Maud's daughter Helen, just to tell Maud, (and the reader!) exactly what had happened to Elizabeth. I wanted to ease Maud's distress. But dementia sufferers forget what they have been told, and the flawed narration cannot bring you the world unless through their own imperfections. Emma Healey communicates this with sensitivity and humour. The climax of that story strand is near the resolution of the book, and is handled beautifully.
The second strand is an equally compelling story about Maud's childhood, but the narrative voice remains the same. Recollection of the past however is more cogent, again mirroring the uncanny ability of a dementia sufferer to be able to be lucid and reliable about their past.
My very good friend has Alzheimers. My Granny and my Great Granny also had it. This book gives Maud humanity; through her confusion, her personality shines through. It is her Granddaughter who perhaps reaches her the most successfully, loving her, coaxing her and gently teasing her where appropriate. I saw my friend in Maud and the dedication at the beginning of the book
"To my Grandmothers"
is suggestive of personal experience, and is, at the very least, indicative of the beautiful empathy for the elderly that is communicated so ably throughout this novel.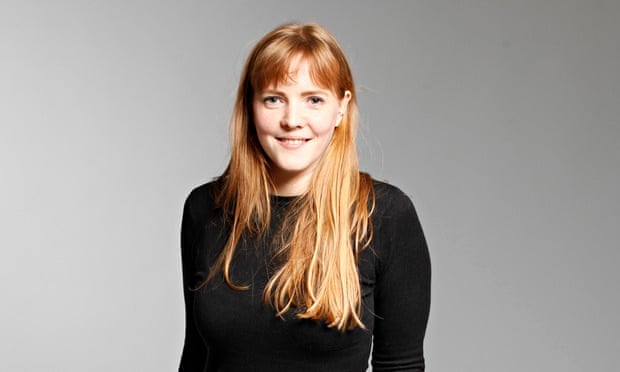 Photograph: Katherine Anne Rose for the Guardian
Emma Healey is a deserving winner of the Costa debut novelist award, announced earlier this month.
I will allow myself a slight smugness that I picked the winner from this category as my reading choice before the announcement!
Make time in 2015 for this novel, and watch out for great things from this novelist.